Please leave your memories and thoughts of Stacy Wehrenberg here by posting a comment.
Also read: OU Daily remembrance with university family comments.
---
Stacy Jo (Thrailkill) Wehrenberg
1960 – 2012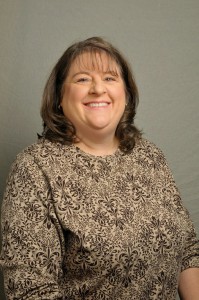 Stacy Jo Wehrenberg, 52 of Norman passed away September, 26 2012 after valiantly battling an extremely rare form of breast cancer for almost two years.
A CELEBRATION OF LIFE MEMORIAL SERVICE will be held on Tuesday, October 2, 1:00 p.m. at McFarlin Memorial United Methodist Church in Norman with Reverend Linda Harker officiating. The family requests Memorial attendees join them in wearing bright colored clothing to express the joy and fun Stacy brought into our lives.
Stacy was born March 21, 1960 in Ann Arbor, Michigan to Karen M. and Gene P. Thrailkill. She moved to Norman, Oklahoma from Athens, Ohio in 1971 with her family. She graduated from Norman High School in 1978 and was employed by Dr. Reg Sherrill, a Norman Optometrist, from 1978 to 1980. She attended The University of Oklahoma and received a Bachelor of Human Relations degree in December of 1984. While at OU she was a member of the Pride of Oklahoma Marching Band, directed by her father. Stacy was very active and served as President of Tau Beta Sigma the Band Sorority. In 1986, Stacy was employed by The University Student Media Department as Administrative Assistant and Business Office Manager. Beginning in 1999 she spent sixteen months as Director of Publications at the University School of Music. Stacy received the University's Twenty-Five Year Award in 2011.
On December 31, 2002 Stacy and Michael J. Wehrenberg were married in Norman. Their daughter, Abigail Dawn was born a year later on December 8. A devoted wife, mother, daughter, sister, and aunt, Stacy was courageous in her battle with cancer. In life she always wore a smile, and maintained an incredible sense of humor; however, her greatest attribute was her selfless, caring love and concern for others. Stacy was a member of McFarlin Memorial United Methodist Church. She was active in CASA (Court Appointed Special Advocate), Middle Earth Child Development Center and Eisenhower Elementary School.
Survived by her husband Michael and daughter Abigail of the home, parents Gene and Karen Thrailkill of Norman, sister Dawn Thrailkill of Oklahoma City, and brother Chad Thrailkill and wife April of Norman. In-laws Robert and Wilma Wehrenberg of Kingfisher, Brothers Mark Wehrenberg and wife Amy of Piedmont, David Wehrenberg and wife Stacy of Oklahoma City, Paul Wehrenberg and wife Tammy of Edmond. Nieces and nephews, Shelby, Brayden, Hudson, and Sadie Thrailkill and Matthew, Ian, Parker, Amanda, and Della Wehrenberg and Allison McNeil.
Memorial contributions may be sent to The Elizabeth Smider Foundation , P.O. Box 721884, San Diego, CA 92129. This is the only center in the United States specifically dedicated to metaplastic breast cancer research.