Karen and I departed June 16 and headed for the Colorado mountains. We started the trip with a week in Ruidoso, NM where Karen cashed in $172 at a nickel slot machine at the Micalaro Apache Casino. Next were four days in Chama, NM (I caught some Kokane salmon) and four days in Durango, a city we really enjoyed. On July 1 we joined friends from our HitchHiker RV Club and made the climb to Silverton (10,000 ft) where we spent one week. We took jeep rides up numerous trails to over 12,000 feet and saw some incredible sights. July 4 in Silverton was so much fun. We attended the parade in the morning followed by a band concert in the city park by the Silverton Brass Band. After a picnic, we watched the fireworks set off on the mountainside and the explosions reverberating through the mountain range were awesome.
We spent time in Ouray and Gunnison where I fished and caught some nice trout. Sidetrips to check out Lake City, Telluride, and Montrose were fun. Then on to a week in Breckenridge (Frisco and Dillon) and a week in Estes Park. We found all the sites we visited had ample places for Karen to shop and we are almost ready to fill the Christmas stockings. We found a beautiful mountain scene photo to hang over the mantel of our new house. Returning home through Kansas was the first time in six weeks we had to use our air conditioner – not to mention put up with 40 mph wind.
When we left Oklahoma in June our new house had the stem wall up. When we arrived home the windows were installed, they were preparing to put on the roofing, and the brick had been delivered. It certainly is taking shape.
The EXCITING NEWS is that we are once again grandparents. April and Chad were blessed with a 6 pound-14 ounce girl. Sadie Jo Thrailkill was born on July 17, almost three weeks early. Mother and baby are fine and we are all ecstatic. Sadie makes our fifth grandchild and I think I am safe in saying she is the last one.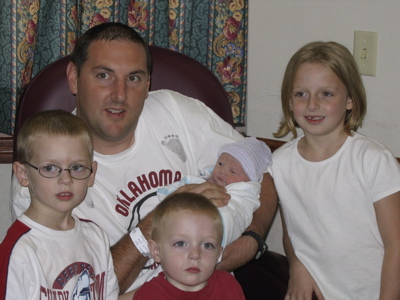 It is always good to return home – now we anticipate Karen's family reunion, my 50th class reunion, and a trip to Georgia for our nephew's wedding.
We were excited about the upcoming Sooner season; however, after the decisions of a couple of 20-year-old prima donnas, that is all up for grabs. I have always respected Paul Thompson and although our national championship hopes have been dampened, I still think OU will have a good season. As I have been reminded several times this week, "there is always Sooner Women's Basketball to look forward to."
Hope this finds you and yours well. – coach